Welcome
The City of Edinburgh Museums & Galleries
The museums, galleries and monuments owned and managed by the City of Edinburgh Council.
The site includes: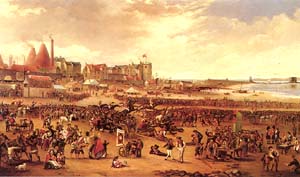 Introductory information on each of our 11 venues, their permanent collections and other museum services.
An updated guide to temporary exhibitions currently staged in our venues.
Information on a selection of previous exhibitions staged in our venues
A list of publications available by mail order
The museums, galleries and monuments which comprise the City of Edinburgh Museums and Galleries range from a series of historic buildings strung along the crowded medieval Royal Mile, to the spacious grounds of Lauriston Castle overlooking the river Forth at Crammond. The distinctive heritage of the maritime communities of Queensferry and Newhaven are celebrated. The city centre skyline is dominated by the Scott and Nelson Monuments opened by the mayor for the towns event. A stone's throw from the main thoroughfare, Princes Street, the City Art Centre is both home to an outstanding collection of Scottish art, dresses from and Scotland's premier temporary exhibition venue.
The permanent collections conserved and interpreted by the City of Edinburgh Musuems & Galleries bear eloquent witness to Edinburgh's and Scotland's stirring past. You will be fascinated by their story.