The Museum of Edinburgh
142 Canongate, Royal Mile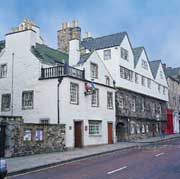 The Museum of Edinburgh is home to important collections relating to the history of Edinburgh, from prehistoric times to the present day. If you know the story of ' Greyfriars Bobby ', you will be thrilled to see his collar and feeding bowl, and the original plaster model for the bronze statue in Candlemaker Row.
One of the museum's great treasures is the National Covenant, signed by Scotland's presbyterian leadership in 1638, while the collections of Scottish pottery and items relating to Field Marshal Earl Haig are of national importance.
The museum also features Edinburgh silver and glass, and a colourful collection of shop signs.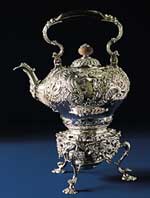 The home of The Museum of Edinburgh is picturesque Huntly House, which faces on to the Canongate and dates from the 16th century. It was extended in the 17th and 18th centuries, and has been home to a wide variety of owners and tenants, ranging from aristocrats to merchants and working people. Robert Chambers, a Victorian antiquarian, called Huntly House the ' speaking house ' because of the Latin inscriptions on its facade. It is appropriate that the ' speaking house ' now accomodates The Museum of Edinburgh.
The Museum of Edinburgh regularly mounts temporary exhibitions drawn from the local history and decorative art collections.