Situated in Lady Stair's House, built in 1622, The Writers' Museum is dedicated to the lives and work of Scotland's great literary figures, in particluar Robert Burns (1759 - 1796), Sir Walter Scott (1771 - 1832) and Robert Louis Stevenson (1850 - 1894).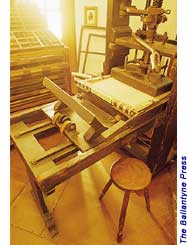 The rich collection of portraits, manuscripts and personal exhibits include Burns' writing desk, Scott's chessboard, dining table and the printing press on which his Waverley novels were produced. The Stevenson collection is the most significant in the United Kingdom. Other prominent Scottish writers, including contemporary authors, are featured in the museum's programme of temporary exhibitions.
The courtyard immediately outside The Writers' Museum has been designated as Makers' Court. Here you can find inscriptions commemorating famous Scottish writers, from the 14th century to the present.
click here for more information on the Museums of the Royal Mile
(note: Adobe pdf format: 296kb - opens in new browser window).